IT Education Services
We provide IT EDUCATION Services and training and our clients include IT staff of companies and students. Our training students are groomed and provided complete help and assistance and are also practically trained in our labs on the following technologies. We are a trusted name and our students have proved themselves in different IT companies that they are employed with.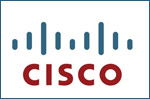 CISCO
Interactive training with the help of boot camps and projectors.
Experienced faculty with Hands-on Industrial exposure.
100% Syllabus Coverage.
Hands on practical training on live projects.
CCNA Certification
Cisco Certified Network Associate (CCNA®) validates the ability to install, configure, operate, and troubleshoot medium-size route and switched networks, including implementation and verification of connections to remote sites in a WAN. CCNA curriculum includes basic mitigation of security threats, introduction to wireless networking concepts and terminology, and performance-based skills. This new curriculum also includes (but is not limited to) the use of these protocols: IP, Enhanced Interior Gateway Routing Protocol (EIGRP), Serial Line Interface Protocol Frame Relay, Routing Information Protocol Version 2 (RIPv2),VLANs, Ethernet, access control lists (ACLs).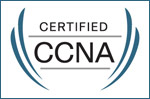 MCSE Certification
The Microsoft Certified Systems Engineer (MCSE) credential shows clients and employers that you can design, implement, and administer infrastructures for business solutions based on Microsoft 2000 Windows Server and other Windows server platforms. Implementation responsibilities include installing, configuring, and troubleshooting network systems.
MCSE on Windows Server 2003
The enduring strength of Windows Server 2003 in the market suggests that demand for related IT expertise will continue for many years. The MCSE on Windows Server 2003 certification enables you to demonstrate your expertise with Windows Server 2003 and inspire confidence in clients and employers. Prove your ability to analyze business requirements for information systems solutions and validate your expertise in designing and implementing infrastructures based on Windows Server 2003.
To earn the MCSE on Windows Server 2003 certification, you must pass seven exams (in any order):
Four exams on networking systems
One exam on client operating systems
One exam on design
One elective exam